The Silver Series Book 7: Silver Moon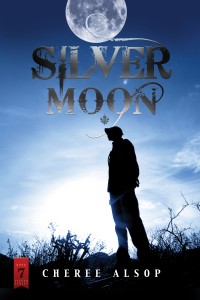 Silver Moon, the seventh book in the Silver Series, is about Jaze as he fights to hold onto the peace he has achieved for the werewolves. Tensions rise, ultimatums are made, and Jaze is forced to make a decision that will change everything for werewolves, hunters, and humans alike. Hearts are broken, lives are forfeit, and Jaze's pack is called upon to save those who survive.
Silver Moon is about sacrificing everything for love. With those he cares about on the line, Jaze's courage, loyalty, and leadership are put to the ultimate test.
Music that helped to inspire Silver Moon:
– Chances by Five for Fighting
– If Today Was Your Last Day by Nickelback
– Remember Everything by Five Finger Death Punch
– Notbroken by The Goo Goo Dolls. This song is Jet's song. This is what Jet would say to Jaze, and the song I feel best fits everything he's gone through in his life.
– Undone by Aranda
– The Waiting One by All That Remains
– Breathe by Ryan Star
– Keep Your Eyes Open by NEEDTOBREATHE
– No Resolution by Seether
– Now Is The Time by 10 Years