Werewolf Academy Book 5: Lost
When a human appears at the gates pleading for Alex's help, he is more than ready to leave the Academy for a chance to cope with his guilt and heartache. Upon finding that Greyton is being decimated by gangs, Alex turns into the city's vigilante, rescuing its citizens and returning the streets to those who learn to look to him for protection.
But when Drogan turns the tables, Alex is forced to choose to between the humans he has protected with his life, and the girl who holds his heart.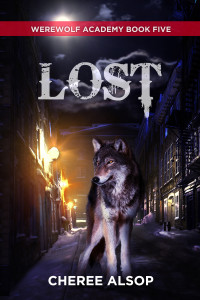 Songs that helped to inspire this book:
All Rise by  Wovenwar
When You Fall in Love by Andrew Ripp
Be the Song by Foy Vance
Cold by Erasmus
Strife by Trivium
Stay With Me by Sam Smith
Lua Fria by Erasmus
Raised By Wolves by U2
Nothingman (Demo) by Pearl Jam