The Silver Series Book 1: Silver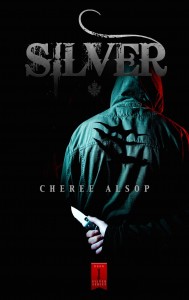 The Silver Series is a series about teenage werewolves trying to survive in today's world. They face the trials and joys that come with being a teenager, as well as the additional challenges of a werewolf. The Silver Series consists of seven books. I have finished the first six and am currently writing the seventh.
Silver, book one of the Silver Series, is a coming of age story about a teenage werewolf whose father is murdered. He has to come to terms with his new life, new school, and new friends while trying to prevent more killings. Attempting to make peace with the territory's pack and finding out that the girl next door might be more than she lets on make his situation even more perilous.
I make playlists that inspire the emotions I try to capture within each book. The following songs made the playlist for Silver:
Broken- Lifehouse
The First of Me- Hoobastank
Sometimes- Papa Roach
All Eyes On Me- Goo Goo Dolls
Going Under- Saliva
Starting Over- Saliva
Innocent- Fuel
Disease- Smile Empty Soul
Pictures of You- The Cure
Simon- Lifehouse
Invincible- Static-X
In The Light- Full Blown Rose
Breach Birth- Chevelle
Deeper Into You- Trust Company
Somewhere I Belong- Linkin Park (Meteora)
Blame- Neverset
Pieces- RED
Break Me Down- RED
Still Standing- The Rasmus
In The Shadows- The Rasmus